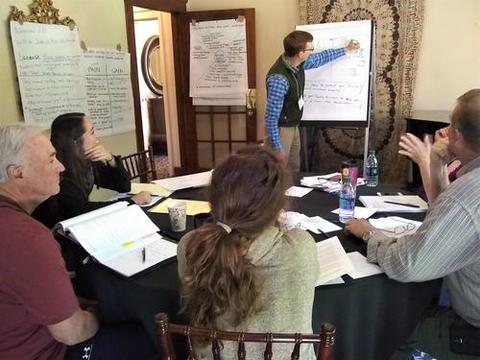 Looking back, 2018 was a full year for the TELE community. Our team continues to grow and make us proud with all of the amazing work that you do! In 2018, we facilitated groups at 11 two-day workshops growing the TELE Team by more than 300 teammates. These partners worked on projects addressing wide ranging issues such as:
Helping landowners go from agreeing that prescribed fire is good to actively using the practice
Leveraging community pride to motivate landowners to remove invasive species
Drawing on place identity to put landowners on the path toward permanently conserving their land
We also grew the TELE Advanced Training family to 60 members. These individuals are broadening our collective landowner outreach impact through presentations they give, like Andy Perleberg's presentation on Engaging Landowners in Forest Stewardship to the Washington Association of District Employees. They are also taking on TELE facilitation responsibilities of their own. Mary Fritz (ID), Rob Lionberger (WA), Malia Nanbara (HI), and Mike Reichenbach (MN) all co-facilitated workshops with the TELE team and are looking forward to continuing to facilitate the TELE process for projects in their regions. Thanks for the great work!
Finally, thank you to all who completed our impact survey last fall, you can view an overview of the results here. We are so grateful to be a part of the work that you do and to hear about your successes! Thank you for letting us share in your achievements.
Best wishes for an outstanding 2019 from the whole TELE Team!