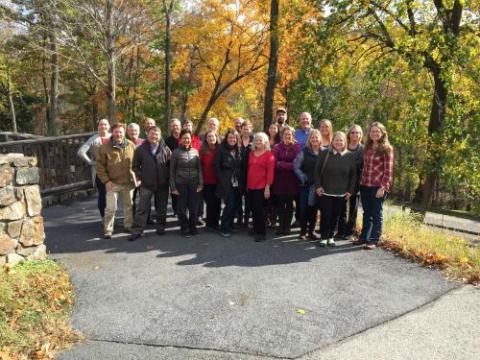 I'm so glad I went to this. It was completely worth my time. I have nothing but positive things to say about it. It's so rare that I'm in a workshop that I don't feel the urge to check my smartphone for something that's more interesting.  - 2016 Advanced Training Participant from a State Forestry Agency
Thanks to a generous grant from the US Forest Service State and Private Forestry, the Sustaining Family Forests Initiative will be hosting two Tools for Engaging Landowners Effectively Advanced Training Workshops to be held in 2017-2018. These workshops are free for participants to attend.
Update:
The training originally scheduled for July in Briarcliff Manor, NY has been rescheduled for November 28 - December 1, 2017 (application deadline extended to July 14, 2017). The second training will be held in Atlanta, GA on April 16 - 19, 2018 (applications accepted through January 12, 2018). Please see below for information on how to apply to attend.
What:
Advanced Training Workshops are designed to deepen your understanding of the TELE methodology and equip you to:
apply TELE techniques effectively in your projects

introduce other colleagues and partners to TELE ideas and practices

provide guidance and support to your own organizations and partnerships that are using TELE techniques in their projects
We expect you to be familiar with the basic tenets of TELE. The bulk of the workshop will be devoted to interactive exercises to help you apply and communicate TELE concepts. For example, sessions will include role-play, presentations, and group work on hypothetical projects. In addition, you will be assigned a 20-30 minute session to facilitate (no formal preparation required). Through these exercises, you will deepen your understanding of TELE concepts, and learn how to address the main challenges in applying and communicating these concepts.
The workshops are offered at no charge to qualified participants. Meals and lodging are provided and some travel assistance is available on an as-needed basis.
Who Would Benefit:
People who are leading a landscape level initiative that involves outreach to landowners, especially if it involves a coalition of agencies and organizations.

People who have responsibility for designing and implementing a landowner program (like a cost-share program) in a state or region

People who are charged with helping their agency/organization plan and conduct landowner outreach 
Participants must have attended a TELE workshop prior to the Advanced Training, and must secure organizational commitment to attend the workshop and implement TELE techniques in their future work.
Where and When:
The workshops cover four days (arrive in time for dinner on Day One, leave after lunch on Day Four), and participants should plan to be engaged throughout the workshop.
November 28 - December 1, 2017: Edith Macy Conference Center, 550 Chappaqua Road, Briarcliff Manor, NY 10510. Closest airports are Westchester County/White Plains (HPN), LaGuardia (LGA) and JFK. Application Deadline: Friday July 14, 2017.
April 16 - 19, 2018: Emory Conference Center and Houston Mill House, 1615 Clifton Road NE, Atlanta, GA 30329. Closest airport is Hartsfield-Jackson (ATL). Application Deadline: Friday January 12, 2018.
To apply to attend one of the TELE Advanced Training workshops:
Send the following to katherine.hollins@yale.edu:
A brief statement describing how you expect to use what you learn in this workshop

A brief statement from your management indicating their support of your participation

(if applicable) A description of the travel assistance needed for you to be able to participate. Firm numbers are not required - for example, you can say 'Flight from Anchorage to NY'

Which workshop you prefer to attend, and if you are able to attend the other, if necessary