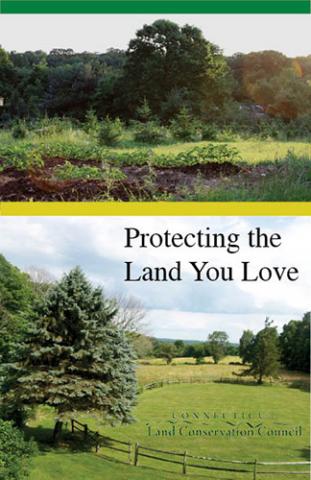 This morning, WNPR Connecticut reported on a new resource available to landowners looking to conserve their forests, farms, and open spaces.
Tony Mecum and SFFI Program Assistant Rachel Plawecki, both recent graduates of the Yale School of Forestry & Environmental Studies, have created a booklet entitled "Protecting the Land You Love" that introduces landowners to the sometimes-confusing process of conserving land. Written under the guidance of Amy Paterson, Executive Director of the Connecticut Land Conservation Council (CLCC), the short booklet outlines the steps in the conservation process. It explains some of the barriers and benefits landowners can expect to encounter and addresses common concerns or misconceptions about conservation. It also includes four stories of real Connecticut landowners who have successfully conserved their land. 
Plawecki and Mecum both attended a TELE workshop for Yale F&ES students this spring and used the six-step process to craft their message and design.  According to them, the booklet was written for landowners who care deeply about their land but have had little exposure to conservation restrictions. Land trusts, service foresters, and other natural resource professionals can use this as a resource when talking to folks who are interested in exploring conservation on their properties.
"Protecting the Land You Love" is now available for download.