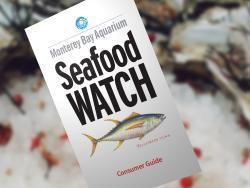 In 1999, recognizing the decline in ocean health due to unsustainable fishing, the Monterey Bay Aquarium in California created Seafood Watch. Seafood Watch is a campaign implementing targeted marketing techniques to influence sustainable seafood choices (consuming fish caught in the wild or farmed in a way that does not negatively impact ocean ecosystems).
Seafood Watch initially targeted "green consumers," an audience that often leads their peers in opinion and shows an interest in how their choices impact the environment. The "persuasion slide" for this target group was clearly well aligned with gravity–the designers of the campaign understood that this audience was well-oriented towards the desired behavioral change, and hoped that they would lead the way to establishing this behavior as a social norm. Through distributing Pocket Guides that illustrate what seafood to buy (and what to avoid), creating a supporting website and mobile phone application, Seafood Watch has reached consumers and promoted choices that have an impact on restaurants, wholesalers and, ultimately, the fishing industry.
By 2010, more than 34 million Pocket Guides had been distributed and 161 partnerships were formed with organizations, government agencies, and businesses. The Marine Stewardship Council, an organization that sets standards for, and certifies, sustainable fisheries, has engaged more than 370 fisheries and certified 265. Seafood Watch continues to push restaurants and supermarkets across the country, including major chains like Target and Safeway, to adopt sustainable seafood sourcing policies that meet consumer demands.
Learn more about Seafood Watch here.