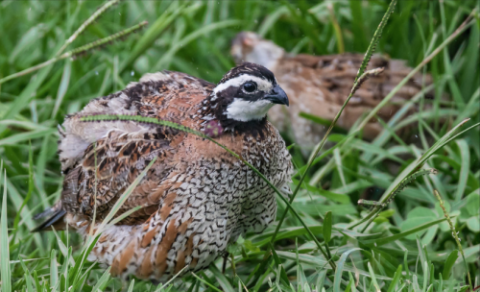 In July of 2015, when staff from the Indian Creek Woodland Savanna Restoration Initiative developed a workshop flyer highlighting the legacy of bobwhite quail in the region, they keyed in on a valuable hook for landowners which has continued to drive engagement and forest management on both public and private lands in South Carolina. The project, which restores savanna, reduces wildfire risk, and enhances water quality, also benefits several native grassland birds, a fact which the Initiative has honed in on.
The Initiative built a mailing list of landowners based on parcel data from several counties in their target region and the original flyer, developed with TELE, drew 40 landowners to a workshop introducing them to financial and technical assistance available to restore their woods. Since that first workshop in August 2015, staff have maintained landowner engagement throughout the year with workshops, an awards dinner, and a newsletter which reinforces that same important theme invoked in the first flyer: Quail Times.
Outreach like Quail Times resonates with landowners with varying values: though the original flyer created in 2015 was designed to speak primarily to Woodland Retreat owners, the heritage of quail resonates with landowners driven by economic interests in their land as well. Gary Peters, Regional Biologist for the National Wild Turkey Federation, notes that even landowners who manage their woods for timber are willing to forgo some economic returns in order to manage for the savanna-dwelling bird. For many, the quail is a compelling "poster child" of habitat restoration, Gary notes: "When they hear the quail singing, they're happy."
The initiative reaches about 300 landowners via the newsletter and event publicity, while attendance remains at approximately 50 landowners at each workshop. Workshops provide hands-on experience and field trips to both private and public lands to see the results of habitat restoration. Financial assistance for habitat restoration provided through NRCS under the Joint Chiefs' Landscape Restoration Partnership has proved to be an added draw for landowners—the Initiative has helped nearly 30 landowners write forest management plans in order to qualify for the funding, and anticipates completing 40 plans by the end of 2017.
Landowners who have participated in the program are recognized with awards and signage. Staff have seen the added benefits of word of mouth as participating landowners share their experiences with neighbors. Since 2015, the Initiative has allocated all of the financial assistance allotted by NRCS. Through continued outreach and relationship-building, staff anticipate continued success in connecting landowners with the necessary funding and technical assistance to manage their woodlands and support the legacy of bobwhite quail in South Carolina.