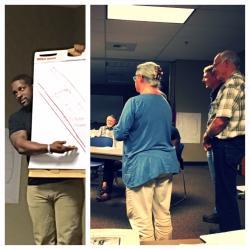 This July, Dan Stonington, Executive Director of the Northwest Natural Resource Group, joined staff and volunteers from several collaborating organizations and agencies in Washington's Pierce and King Counties at a TELE workshop in Tacoma, Washington. The group came together as part of the Puyallup Watershed Initiative, a 10-year collaborative effort sparked by The Russell Family Foundation to convene partners and develop shared strategies for long-term sustainability and prosperity. Their task? Identify and reach out to woodland owners in the Puyallup watershed.
For the past year, Dan and the Forests team of the watershed initiative, including staff from the Pierce County chapter of the Washington Farm Forestry Association, Pierce County Planning and Land Services, King County Department of Natural Resources and Parks, the Natural Resources Conservation Service, and Washington Department of Natural Resources, have faced challenges identifying and reaching out to landowners in the Puyallup watershed, which is just south of Seattle in Washington's Puget Sound basin. It can be challenging to attract the right attendees for a focus group, or survey a larger group of respondents in a time-efficient way, and the team felt that working with TELE could be key to efficiently identifying and reaching out to landowners.
For Dan, a highlight of the workshop was getting a snapshot of landowner attitudes, values and behaviors with respect to woodland ownership in Washington. "Outreach efforts in the area have had some successes, but we know that there are so many landowners that we're not reaching," said Dan. "It was important for us to see the types of landowner values out there and to combine that information with our knowledge of the watershed. That really sparked a conversation about what kind of language we should be using." With this in mind, the team used a combination of local knowledge and data presented by the TELE team to craft a message aimed at a specific audience segment: Woodland Retreat owners who had purchased their land in the last 10 to 15 years.
The desired action identified for these landowners was to attend a workshop and tour of a privately-owned woodlot and take a follow-up action after the event such as asking for more information or requesting a site visit from a consulting forester. Workshop participants identified language that would resonate in outreach materials. They honed in on terms like empowerment and family legacy to strike a chord with landowners, refining a tagline to attract attendees to the workshop: Enhance and protect your piece of heaven for yourselves and your family legacy.
The team's next steps include creating a series of mailings, flyers, and press releases around these themes to reach out to landowners and promote their workshop, supported with funding from the Russell Family Foundation and other partners. We look forward to sharing the results of their work!