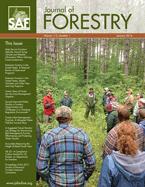 This fall, the Journal of Forestry will publish a new study titled "Hansel and Gretel Walk in the Forest, Landowners Walk in the Woods: A Qualitative Examination of the Language Used by Family Forest Owners." The study, a collaborative effort between Kyle Andrejczyk, Judith Langer, and SFFI's Brett Butler and Mary Tyrrell, describes a series of focus groups conducted in 2007 with family forest owners. The results provide information for forestry groups seeking to craft effective, resonant messaging in their landowner outreach efforts.
The article has now been published online ahead of print and can be accessed here or through the "fast track" portion of the Journal of Forestry Online Archive. Only those with a subscription to the Journal of Forestry will be able to access the pre-published article.    
We will add a link to the full article under the SFFI Resources page as soon as the article appears in print.